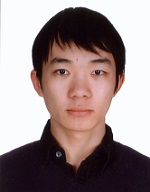 Leibniz Universität Hannover
Institut für Informationsverarbeitung
Appelstr. 9A
30167 Hannover
Germany
phone: +49 511 762-5312
fax: +49 511 762-5333
office location: room 1302
Wentong Liao graduated with a Bachelor's degree in Communication Engineering from Xidian University, China, in 2011. He furthered his studied at Leibniz Universität Hannover with a focus on signal processing and communication techniques and received his Master's degree in summer 2015. After graduation he joined Institut für Informationsverarbeitung at Leibniz Universität Hannover where he currently pursues a PhD. He is co-supervised by Prof. Bodo Rosenhahn and Assistant Prof. Michael Ying Yang from ITC, University of Twente. From Feb. 1st till Nov. 30rd 2018, he works with Dr. Zeng and Dr. Lan as an intern at Microsoft Research Asia (MSRA).
Show selected publications only
Video Event Recognition by Combining HDP and Gaussian Process

IEEE International Conference on Computer Vision (ICCV) Workshop, pp. 19-27, Santiago, Chile, December 2015

Gaussian Process for Activity Modeling and Anomaly Detection

International Society for Photogrammetry and Remote Sensing ISA workshop, La Grande Motte, France, September 2015

Hyperspectral Image Classification Using Gaussian Process Models

International Geoscience and Remote Sensing Symposium (IGARSS), Milan, Italy, IEEE Xplore Digital Library, July 2015

Integration of Gaussian Process and MRF for Hyperspectral Image Classification

Joint Urban Remote Sensing Event, IEEE, March 2015
From Feb. 1st till Nov. 30rd 2018 he is not in TNT and does not accept students for Bachelor/Master thesis anymore.